Version 1.86
New Features
Bug Fix: 
Dispatch App: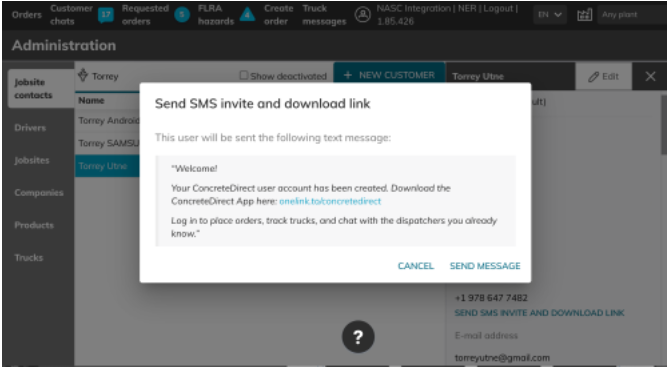 Driver App: 
• Plant Loading Call Board: When turned on at a plant level, drivers will be able to see  how many trucks are ticketed ahead of them, and when to pull under the plant as their  payload is being batched. This is being initially launched at specific plants but is avail able to all regions.
(This feature was delayed due to testing.)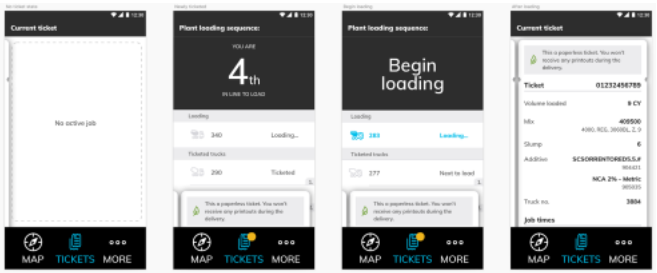 Version 1.84
New Features 
Customer Mobile App: 
Improved Pin Dropping and Maps:

When using the pin drop feature to place an or der, the app will continue to show the map and a reminder that

"Delivery always goes  to the pin on the map, and not the address"

. A map has also been added to the order  details screen and interactivity has been restored to ticket level maps.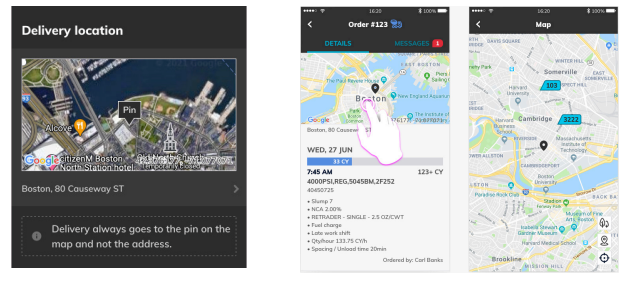 Driver App: 
• Driver App QR Code Shares Whole Order: Now, when a driver shows the QR code  from inside his app it will share all the tickets for the entire order.
Version 1.83
New Features 
Customer Mobile App: 
• "What's in the hole?": The customer app will now show a running total of how much  has been "Delivered" on every ticket, thus answering the question "What's in the hole?"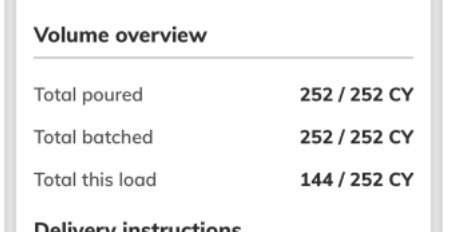 Driver App: 
DVIR Improvement:

"This vehicle has been inspected in accordance…" language has  been added to the DVIR summary details. 

Status Improvement:

If a truck leaves a jobsite after spending 10 or more minutes "on  site" then their payload will transition to "Delivered" automatically and be added to the  "Total poured" amount. This allows rental trucks to be given a tablet and still send reli able statuses without driver input.
Dispatch App: 
Exclusion of Dispatch created orders:

Dispatcher created orders will not count to wards the "Orders requested" metrics on the Activity screen. Likewise, the speed at  which dispatcher created orders are accepted will not contribute to the metrics on that  page. 

Dispatcher created spotlight cards:

The Broadcast feature can now also send "Spot light cards" to the customer app. Spotlight cards are announcements that sit at the top  of the customers Orders screen that can be dismissed. Spotlight cards should be used  sparingly and only contain actionable information such as "The plant will be open this  Sunday, please place orders!". They can also be sent to contracts priced out of specific  plants or to specific companies.